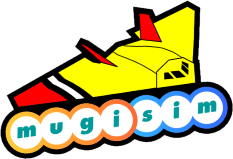 Mugi Sim 2 - HTC Vive / Oculus
A downloadable game for Windows
Mugi Sim is a flight simulation where you fly a radio control model with a delta wing.
This is not an arcade experience - while flying you are not placed inside the glider and instead control it as it flies in front of you. It is therefore easy to lose the model out of sight, or even behind you. However, with a bit of practice you can avoid this happening and you'll enjoy the freedom of flying on a real hilltop.
Controls and VR support:
Xbox controller
Optional Oculus Rift or Vive
Keyboard:

Mode 2 controls

Z - roll left
X - roll right
' - pitch forward
/ - pitch up

Mode 1 controls

< - roll left
> - roll right
A - pitch forward
Z - pitch up

M - Change mode - toggles between Mode 1 and Mode 2

Return - toggle trail
R - reset to seated or standing position
Minimum System Requirements:
Graphics Card: NVIDIA GTX 960 / AMD Radeon R9 290 or greater
CPU: Intel i3-6100 / AMD Ryzen 3 1200, FX4350 or greater
Memory: 8GB+ RAM
OS: Windows 10 operating system
Recommended System Requirements:

Oculus Rift or HTC Vive
Graphics Card: NVIDIA GTX 1060 / AMD Radeon RX 480 or greater
CPU: Intel i5-4590 / AMD Ryzen 5 1500X or greater
Memory: 8GB+ RAM
OS: Windows 10 operating system
Install instructions
Install for HTC Vive and Oculus:
Download the Self Extracting Zip file (SFX) from the site and install to an accessible location e.g. C:\mugi
Run mugi.exe
Uninstall:
Remove all the files you unpacked. This game does not use any registry or install any additional files into your system
Change log:
25/02/2019 - 2.1
This is an beta test version supporting optional HTC Vive and Oculus Rift.
Player can reset the view using R to either a seated or standard pose.

Changed the non-VR camera so R can be used to reset the aircraft.